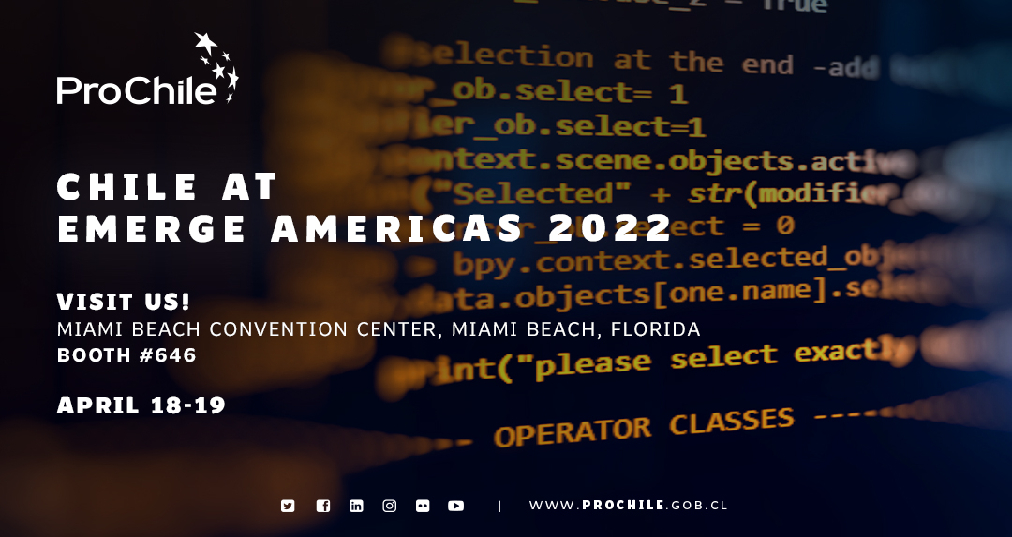 Chile officially participates in eMerge Americas for the second time, since its last face-to-face version in 2019, one of the most important technological events to connect Latin American companies with the rest of the world, which will take place this April 18 and 19 at the Miami Beach Convention Center.
The participation of 16,000 people from more than 40 countries and 4,000 companies from the areas of Fintech, Cybersecurity and HealthTech is expected.
The country will present its latest technological developments through a meeting point type stand, enabled by the General Directorate of Export Promotion, ProChile, through its Commercial Office in Miami, a city that has been considered one of the key ecosystems for the international development of their startups.
This is how the Chilean stand will exhibit five companies, between them: Smartjob, specialist in IT services; Magnet, digital solutions; and Vita Wallet, Fintech that allows international payments to be processed for individuals and companies. These were selected, through an open call process, for their degree of maturity, potential for growth and internationalization and opportunities in the market.
All of them will also participate in the "Startup Showcase", where they will compete against a hundred companies against Venture Capitals and angel investors. Other Chilean companies that will be participating in the fair will also present themselves in this competition.
"With our participation we hope to increase networks in a very relevant market for the area of technological services and innovation, support the internationalization process of the companies that participate and show ourselves as the leading country in innovation", declared Ian Frederick, Coordinator of ProChile in United States.
It should be noted that Chile is the country with the most entrepreneurs in the OECD and the Latin American leader in prestigious world rankings, including the Global Innovation Index, thanks to the policies promoted to allow, for example, the creation of companies in one day, online and online. zero cost; attract talent from all over the world, and facilitate its global scale.
The activities for this version will also include several parallel Summits, among which are the Women Innovation & Technology (WIT), in which influential people in technology, innovators and consumers will be convened to open new paths and close the gender gap in technology. and entrepreneurship.
The eMerge Americas Government (eGOV) Summit brings together high-level government officials and private sector leaders from around the world. They come with a shared goal: to transform their urban communities into smart cities through the power of innovative technology. The eGOV Summit is a platform to establish and showcase public-private partnerships.
Lastly, the Investors Summit, curated content for investors from across the Americas to connect and discuss relevant investment topics and trends with distinguished guest speakers.